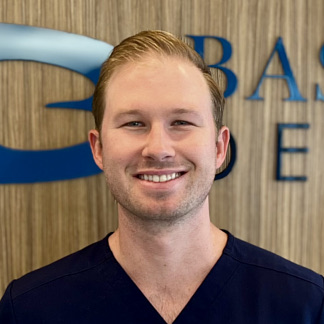 Dr. William Olafson grew up in Fort Lauderdale, Florida and attended the University of Central Florida where he obtained a Bachelor's degree in Biology. He went on to receive his Doctorate in Dental Medicine from Nova Southeastern University in Florida. Following dental school, Dr. Olafson participated in a prestigious one-year General Practice Residency at the Albert Einstein Medical Center in Philadelphia, Pennsylvania. The residency focused on the comprehensive treatment of patients with complex dental problems. Dr. Olafson received advanced training in all aspects of dentistry with a focus on oral surgery, implants, endodontics (root canals) and periodontal (gum) surgeries.
Dr. Olafson has completed hundreds of hours in continuing education and is committed to staying up-to-date on the latest advancements in the ever-evolving profession. His favorite part of dentistry is being able to relieve patient's pain and help provide them a beautiful smile. He loves technology and is excited that his patients can benefit from the continued improvements in dental technology.
Outside of the office Dr. Olafson enjoys playing golf and spending time with his family.