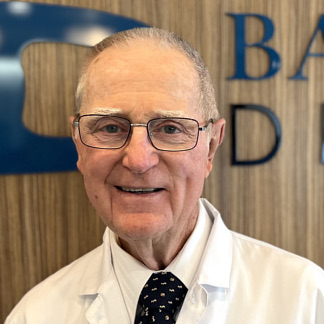 I opened Bastien Dental in 1968 with the goal of providing my patients dental care that could improve their lives and overall well-being. Throughout the years, I have come to realize that while I have indeed improved the lives of many, my life was the one that was ultimately improved. I've had the privilege of meeting so many wonderful people, all of whom have had a profound effect on my life.
Education and Continuing Education
I attended Assumption College in Worcester, and graduated in 1964. In 1968, I earned my Doctorate of Dental Medicine from the New Jersey College of Medicine & Dentistry.
Continuing education is the best way to educate myself to serve my patients better. I attend numerous continuing education courses through my various professional associations, and deal with topics related to general dentistry, orthopedic orthodontics, and cosmetic dentistry.
Professional Memberships
American Dental Association
Academy of General Dentistry, emeritus
American Academy of Gnathologic Orthopedics
Chestnut Hill Study Club
United States Naval Dental Corps
Outside the Office
I am originally from Worcester, and have lived in Marshfield since 1968. I have a great wife to whom I've been married more than 50 years. We have four wonderful children: our oldest daughter Julie has her master's in social work, our son Peter has his master's in business, our son David is a dentist who has taken over my practice, and our daughter Michelle is a vascular surgeon who works for the VA.
My wife and I have six grandchildren (from small to mid teens) as well as five dogs and a cat, and just requested a sixth dog.
While I am part time now, I still love to work, and see patients two days per week as well as manage the practice. I'm still actively golfing, skiing, playing basketball, traveling the greater Boston area to cheer for all of my grandchildren, and taking care of the house and property.