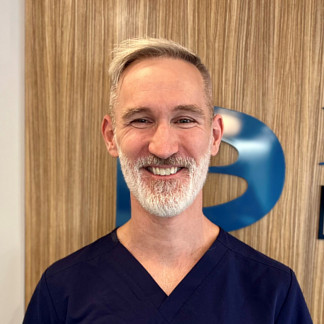 As a dentist, I have a great opportunity to change people's perspectives on what dentistry is. So many have had bad dental experiences or carry shame over the condition of their mouth. I love changing their outlook. Shots don't have to be painful, the drill can be quieter, the staff friendlier, the dentist more compassionate, and the results more beautiful.
My path to dentistry was both usual and unusual. I was a political science major who studied economics and language in Beijing, when I realized I was on the wrong path. I missed home, and gained perspective. Though I was not sure dentistry was right for me, I started taking pre-med classes, and loved them. Of course, since my dad is a dentist, he encouraged me to pursue dentistry — advice I followed — and I have absolutely no regrets.
Education and Continuing Education
I am a hometown graduate of Marshfield High School and attended Bates College for my undergraduate degree. I gained my Doctorate of Dental Surgery from the world's first dental school: the University of Maryland School of Dentistry. I continued my education with an optional General Practice Residency through the Veterans Health Administration.
The world of dental technology changes quickly, from lasers, digital scanning, and 3D printing and milling, to implants, bone preservation and restoration, and "no-metal" orthodontics. As a general dentist, I feel it is critical to stay knowledgeable about all new dental options and procedures, and to maintain high levels of competence in select advanced procedures such as dental implants.
As always, quality is better than quantity! With that said, I have a trusted group of dental specialists I have selected to work with if there is ever a need for care outside my areas of expertise.
Since completing my formal education, I have been involved in monthly study group meetings and regular continuing education courses. I attend the yearly Yankee Dental Symposium in Boston, and have attended at least one additional intensive multi-day course a year. I am also involved in the Seattle Study Club, a high-level study group that focuses on multidisciplinary treatment planning to achieve better, longer-lasting dentistry.
Professional Memberships
American Dental Association
Massachusetts Dental Association
Academy of General Dentistry
Seattle Study Club
Outside the Office
My husband Brad and I live in the Boston area, with our dog Ralph. I am an avid photographer, skier, tennis and volleyball player, and have dabbled in triathlons, having finished the Duxbury Tri twice. I love spending time with my siblings and many nieces and nephews, all of whom live locally. When I am not at home or work, I can usually be found in Provincetown.
Bastien Dental is a frequent contributor to Marshfield athletic and arts boosters, the Boys & Girl Club of Marshfield, and the Pan-Mass Challenge. Like most families, mine has been touched by cancer and pediatric illness, so I am always inclined to help those causes.
My biggest charitable passion outside of work is in education: Brad and I have been involved in fundraising and donating to an amazing organization called Breakthrough Greater Boston for the past ten years. If you haven't heard of it, check it out!
I owe a lot to my family, my friends, teachers, and community, and it feels good to give back.